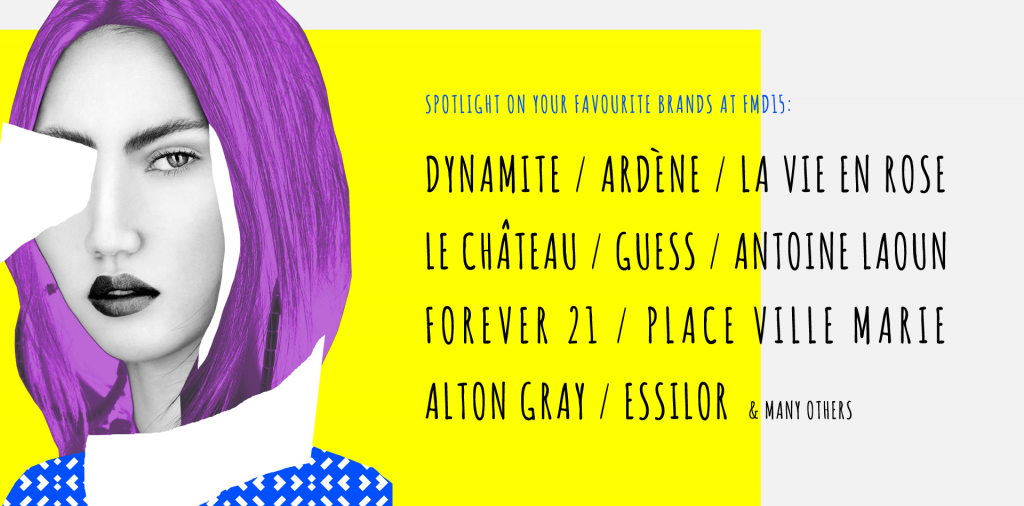 Last week Montreal's Fashion and Design Festival took place in the heart of the city centre. Every year many well-known Canadian artists, emerging designers, aspiring musicians and international fashion icons make their way to the Place des Arts. The catwalks are held outside in the Quartier des Spectacles, and all around there are pop-up stalls and boutiques to entertain the public. There are also conferences held in the museum next door, offering a great variety of events. I was very keen to see how this festival compared to the London fashion scene, so you can imagine my excitement when the magazine I am working for offered me a front-row ticket to go to one of the catwalks.
It was even better that the collections showcased three local designers: Body Bag by Jude, Harricana by Mariouche and Hip & Bone.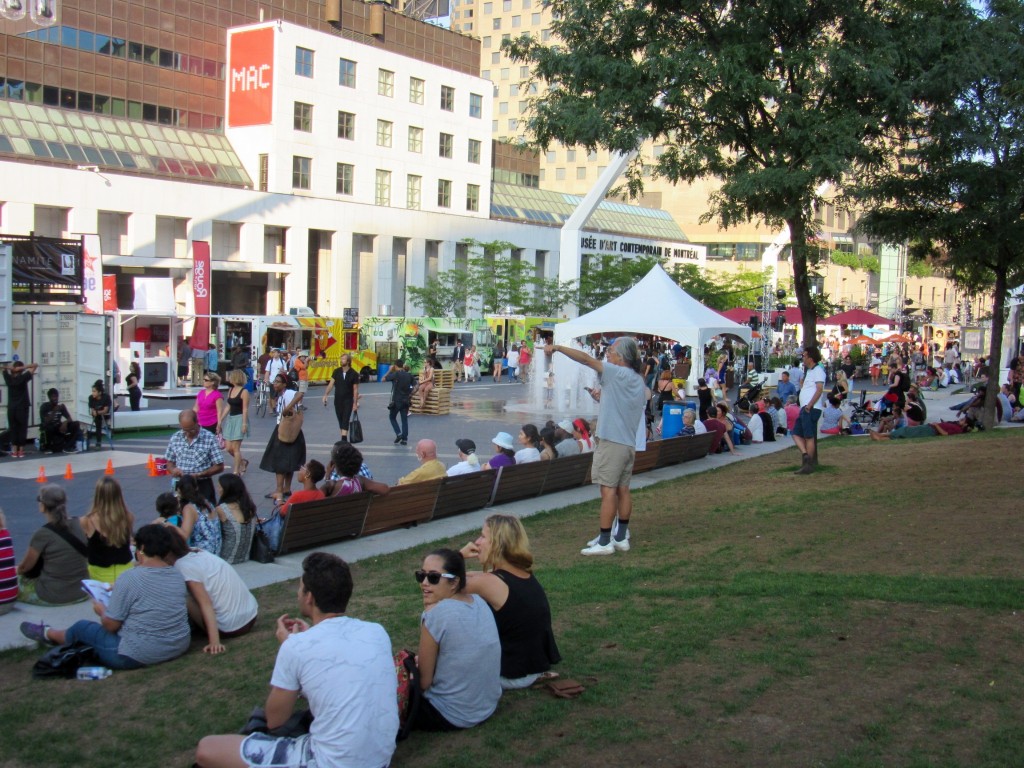 As I arrived at the Place des Arts in the early evening, I was struck to see the variety of people that were there. From young families, to eager tourists, stylish bloggers and young teenagers it was clear that the festival had achieved its aim to be inclusive. A ticket is only needed to access the VIP areas, since the general public could watch the shows from the square. The square was lively with music, pop-up shops and stalls offering freebies; plus the weather was just right at this time of the evening, settling down from the high temperatures during the day.
In the VIP area however, everyone seemed to know each other, and all were groomed to perfection. Patterned and well-tailored dresses abounded, as well as headscarves (a trend I was not aware of). After proudly flashing my ticket many times to the helpers who thought I was a mere lost tourist, I sat down to watch the show.
A Canadian singer-songwriter called Apigeon animated the catwalk. Her low, husky voice and hybrid songs of folk, pop and electronic created the perfect balance between background music but one which still manages to attract the attention of the audience.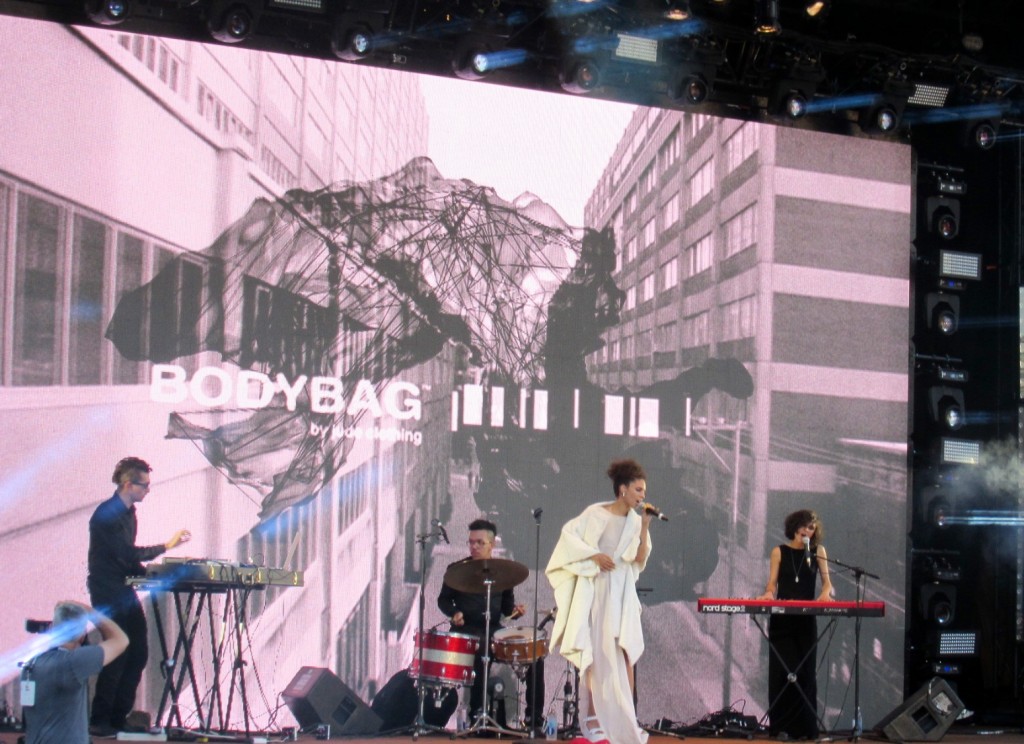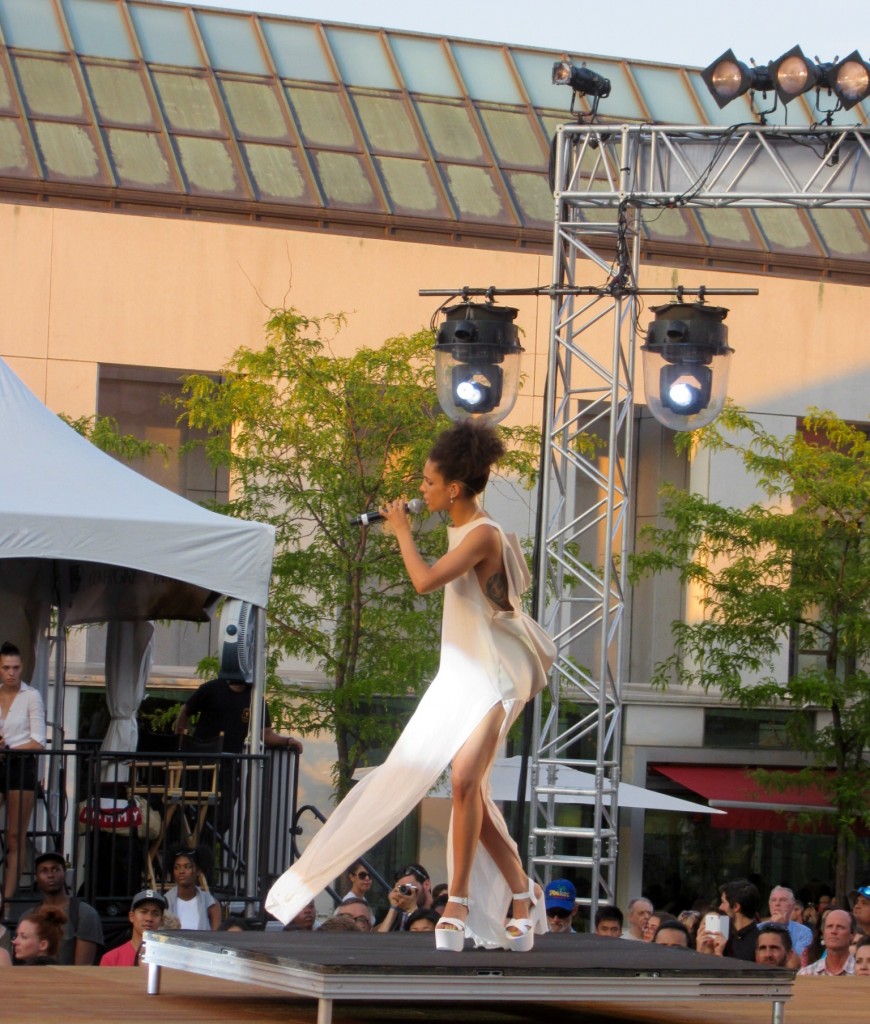 The first designer was Body Bag by Jude. I really liked this street-wear collection and its emphasis on sombre-coloured slip dresses, burgundy boots and boyish shirts. I could easily see myself wearing most of those pieces.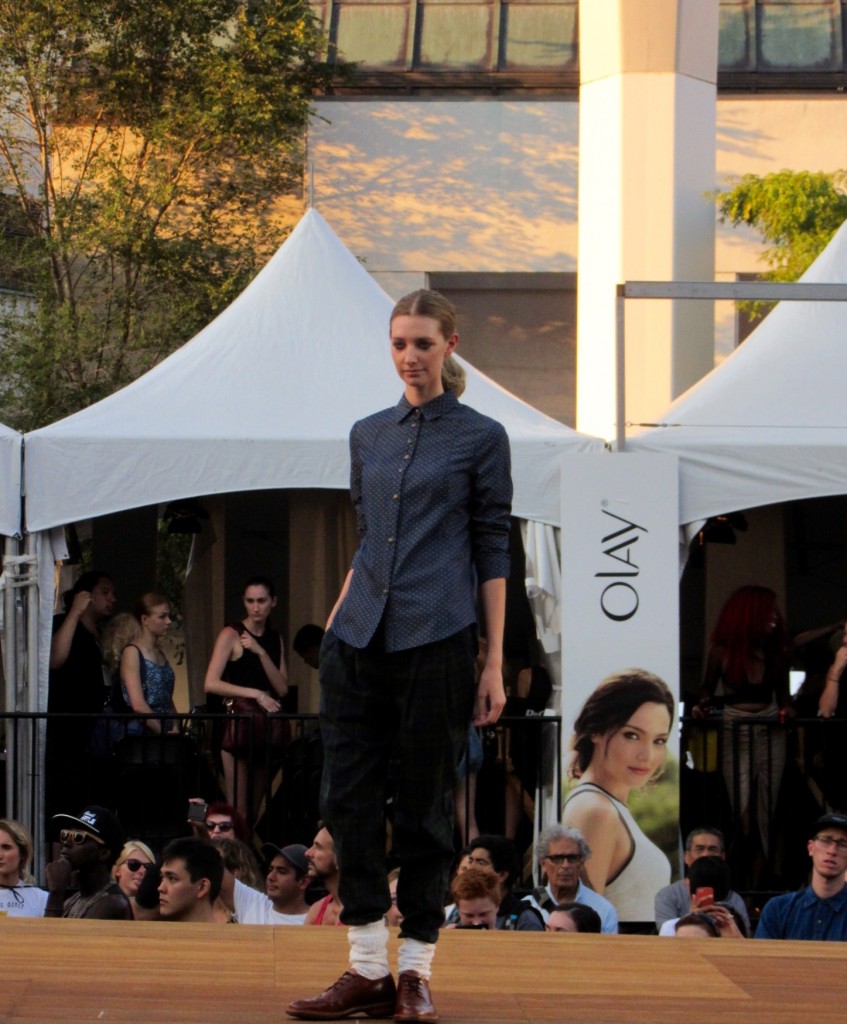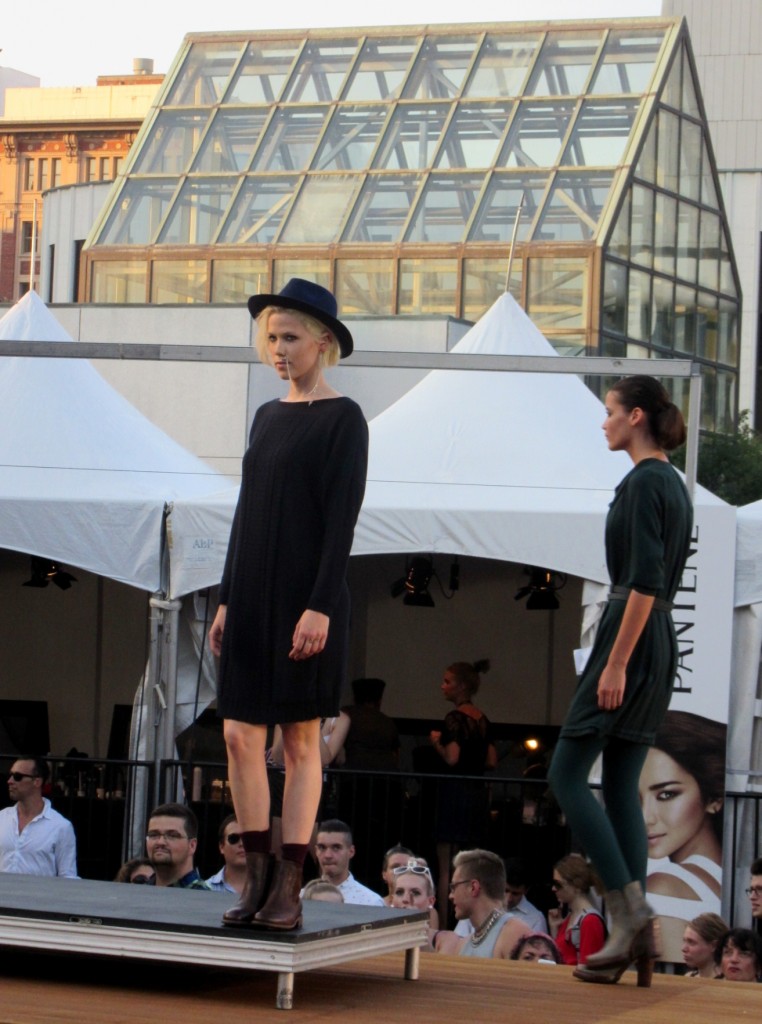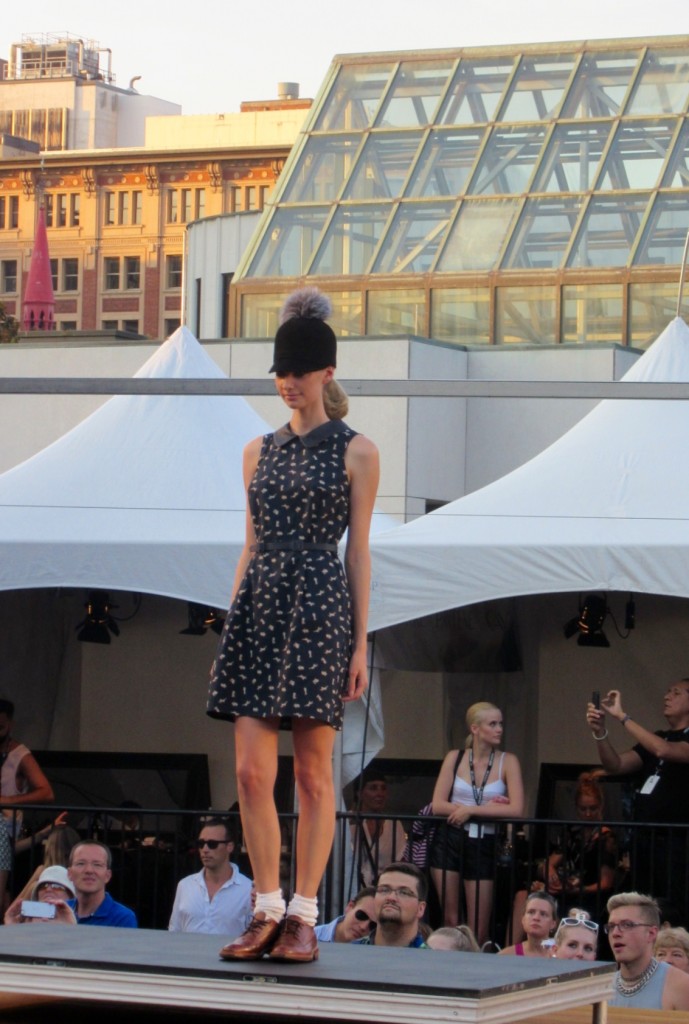 Next came Harricana by Mariouche. Established in 1994, Harricana is a men, women and children's boutique selling clothes and accessories made from recycled old furs.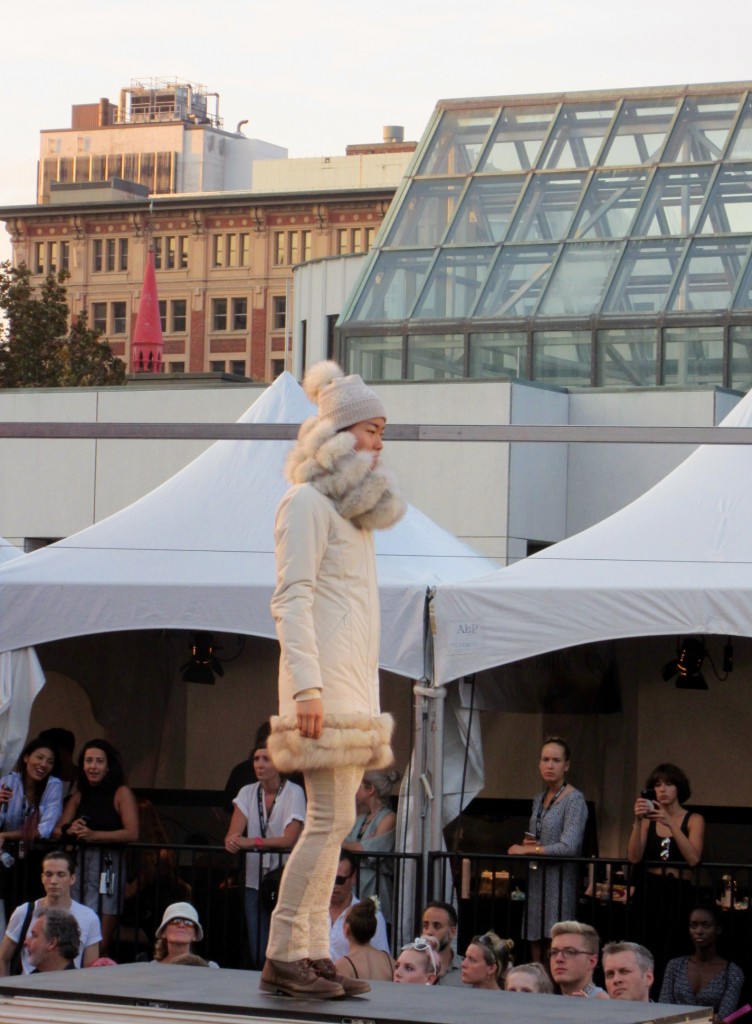 It is clear to me that animals killed simply for their fur and kept in horrible conditions is illegal and must be stopped.
However, vintage fur and recycled fur create a grey area. Is it okay to wear old fur coats recycled from the 40s, 50s and 60s regardless of the way they were originally made? Mariouche states on her website that "By recycling old furs, we have saved the lives of more than 800,000 animals over the past 15 years." For Mariouche, "everything that will be thrown away should be reused even if you don't believe in the original product". In this way, given the comeback of real fur in fashion, she is offering people a viable alternative, whilst also ensuring the sustainability of her materials. It's true that the winters in Québec require an item of fur to keep warm, and I do think it's worth re-using the fur of the animal since it is already dead. Yet it seems slightly hypocritical to say that fur farming should be stopped whilst sporting a fur coat, albeit vintage. What do you think?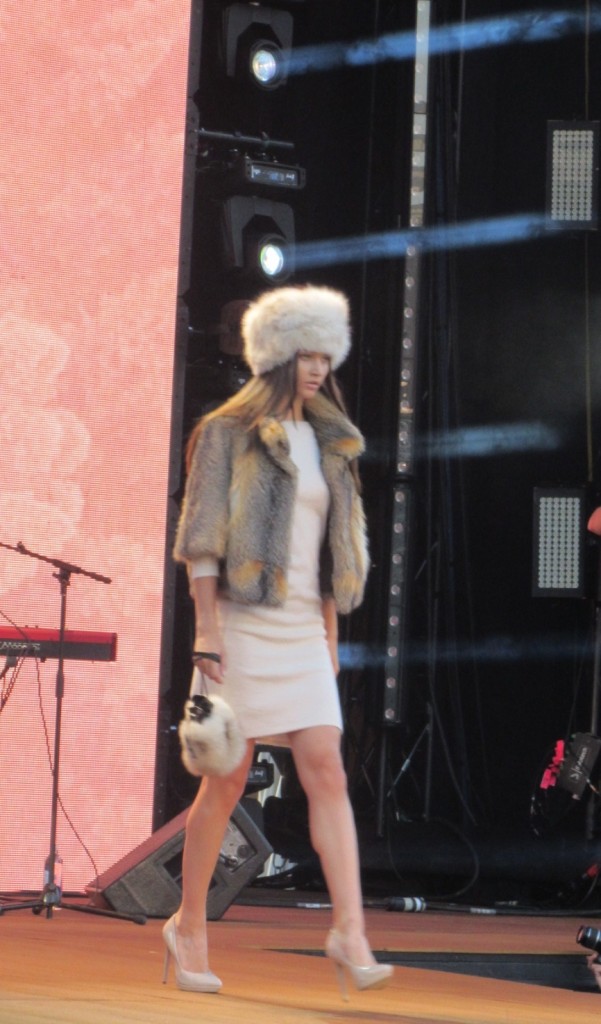 Despite the debate, the ready-to-wear collection was beautiful and practical. (Although I did feel sorry for those models wearing fur in August!).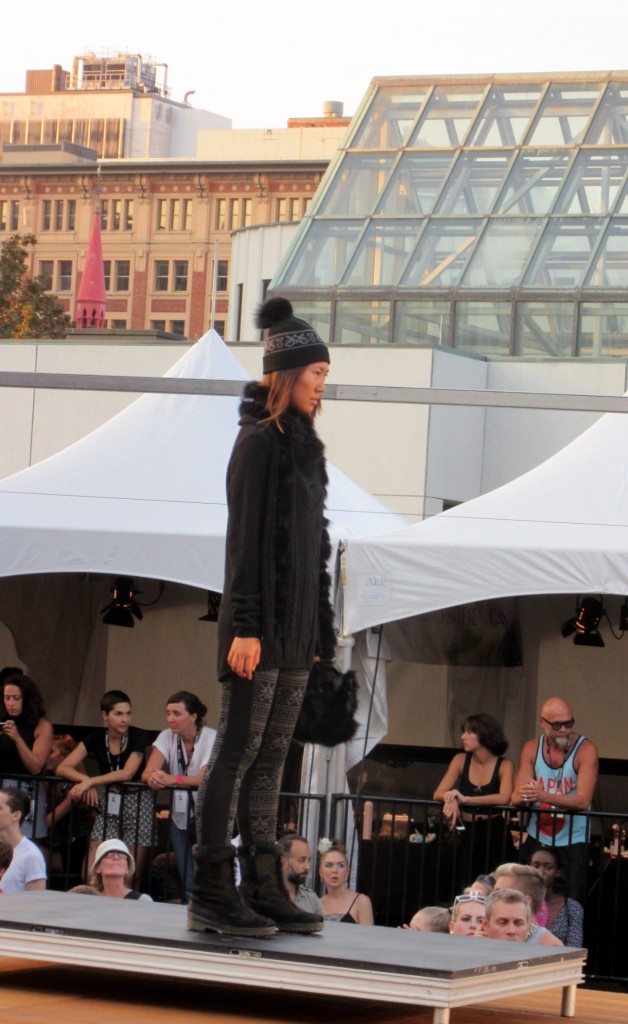 The last collection was Hip & Bone, a trendy men's boutique. Again, I was very impressed with the clothes, which looked accessible, comfy and stylish.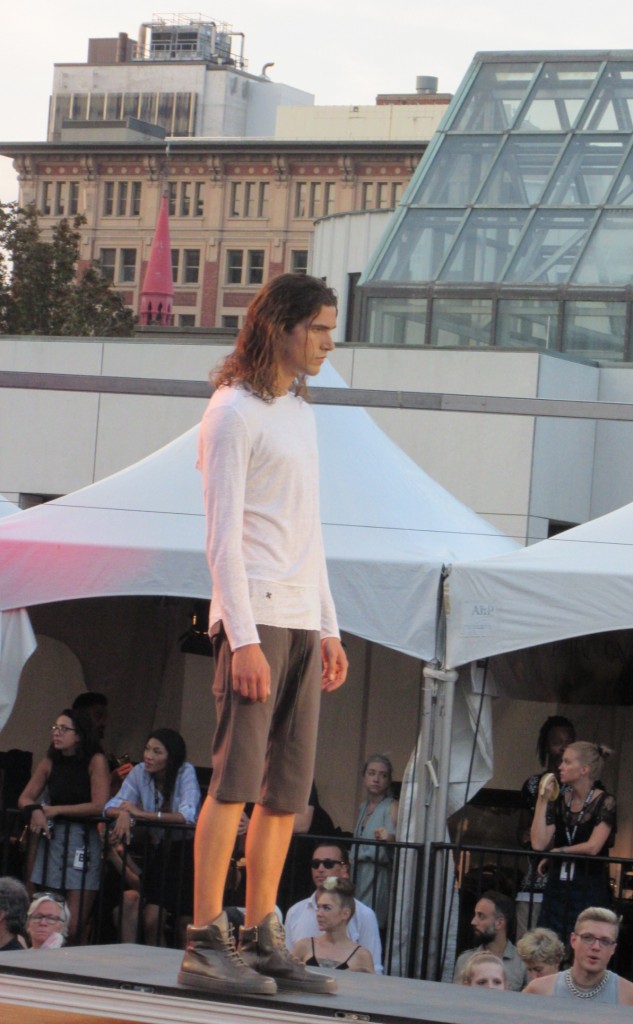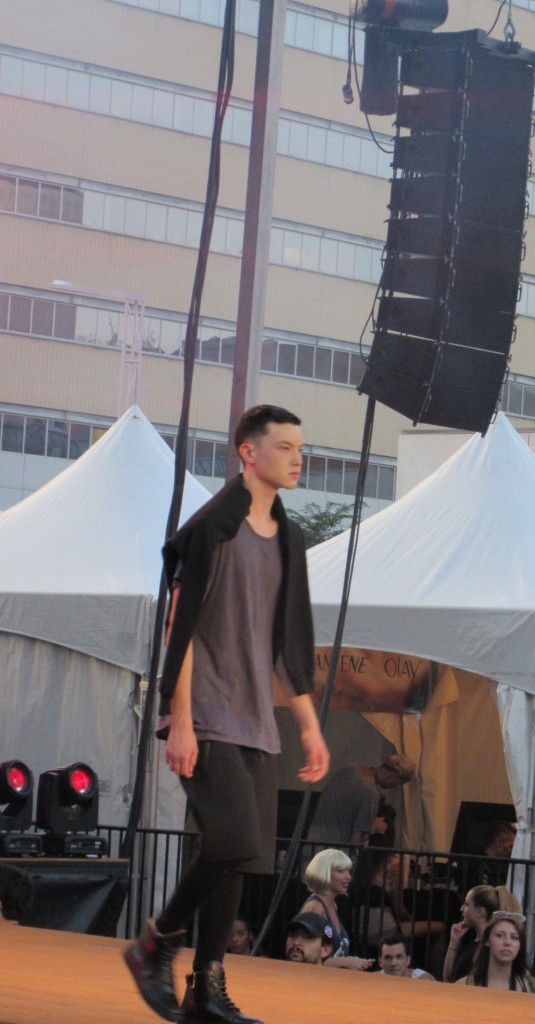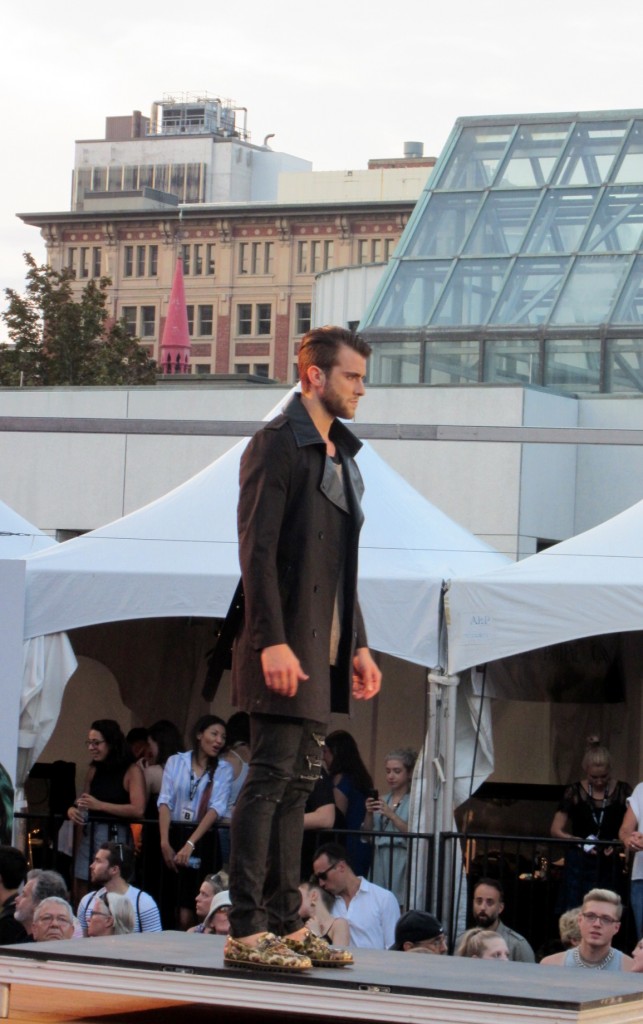 Just before the end of the show, artist Scooter Laforge came onto stage with Apiegon (the musician!) and many cans of paint.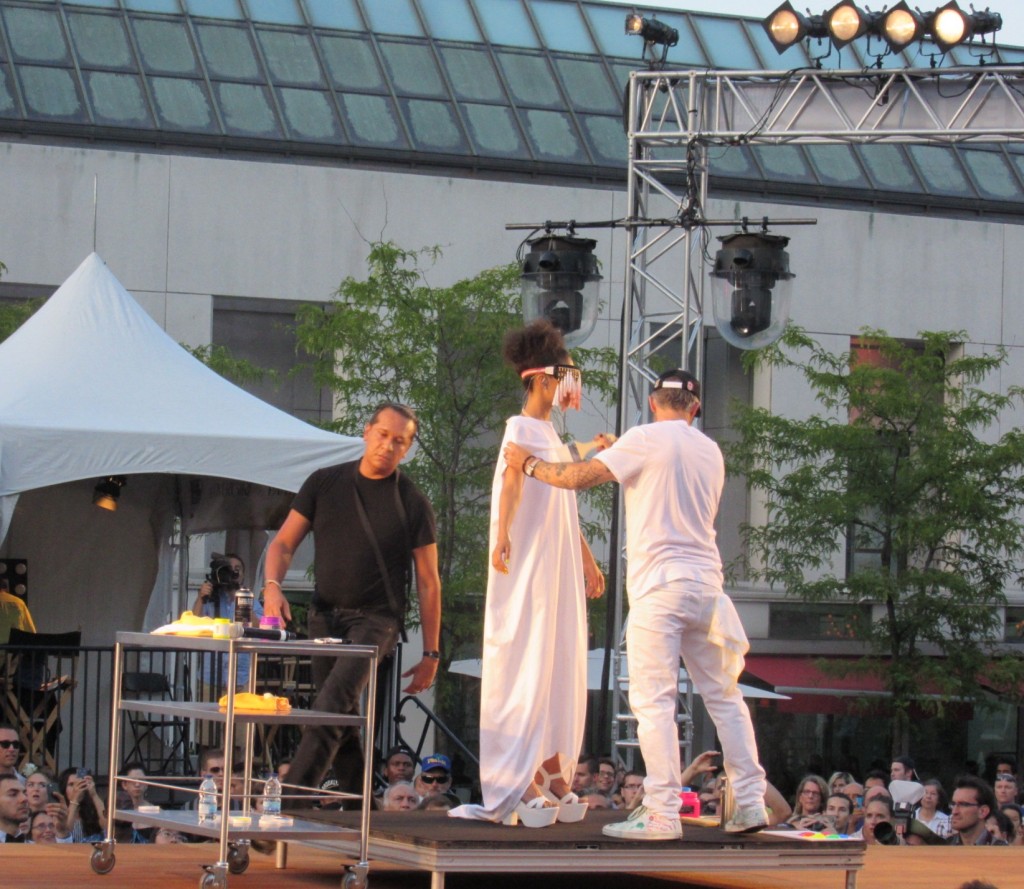 As he started to paint her in her white sheet, the spectators awaited the final result with baited breath. As the music and buzz started to lull, the tension was building and I was half expecting a huge transformation. This was the final look: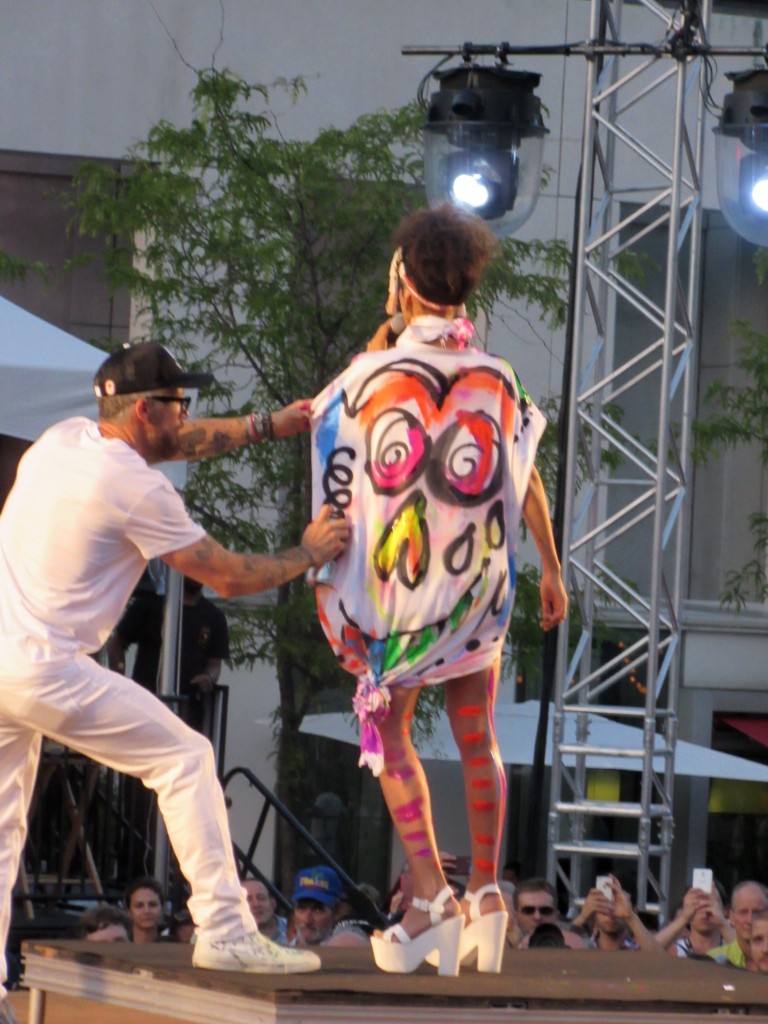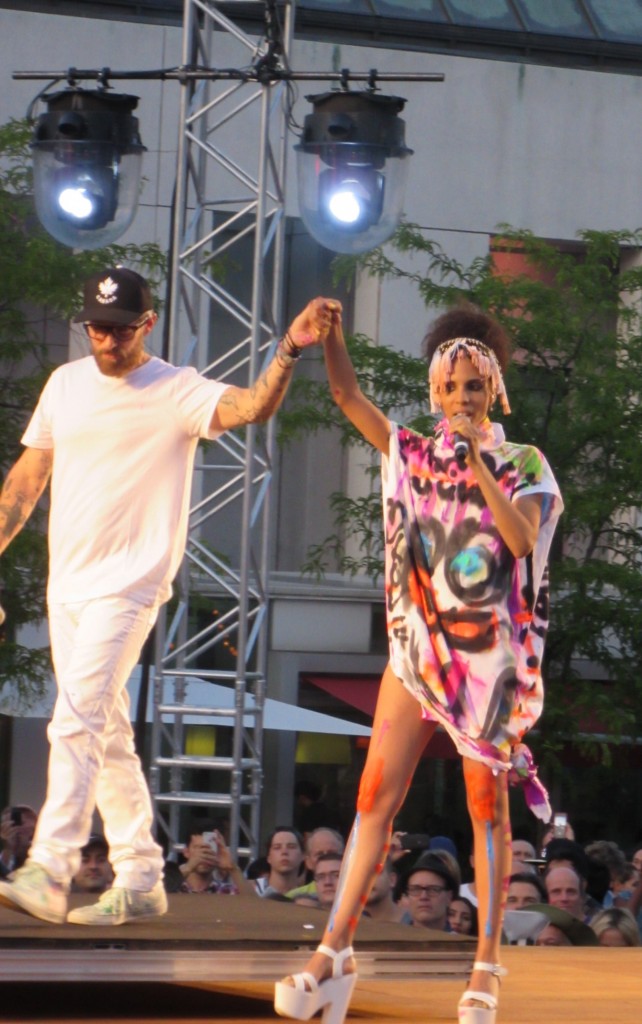 I was not too sure how to interpret it, but after checking out his collection in Patricia Field's boutique, I can see that this artist / designer specializes in graphic, animated and 'destroy' items – a lot like a piece of street art on a garment. The whole experience was indeed very cool, and also allowed me to discover new local designers and artists, which is what I am here for after all.
Before I end the blogpost, quick shoutout to this man's head (bottom of picture) for making it into all of my photos. I cropped him out of most of them but thought he deserved a least a bit of fame for being so persistent. #nofilter #noedit