Welcome to part 2 of the Sustaina-series. My first post aimed to unpack the words 'sustainable' and 'sustainable fashion' and to look into the regulation in the UK that can help shape the sustainable fashion movement. Now I'll delve into how, as consumers, we can play our part in the sustainable movement.
There seems to be a paradox in consumer habits, particularly among Gen Z consumers. On the one hand young people are very much aware of the damaging effects of fast fashion on the planet, yet on the other, fast fashion hauls on Youtube rake in an inordinate amount of views and ultra fast-fashion brands such as Shein generate billions in sales, topping Zara and H&M. How can we reconcile these two attitudes? Is it realistic to unlearn consumerism in the age of TikTok trends? Is all the information on 'sustainability' too overwhelming faced with the low prices and flashy garms that fast fashion offers?
How we can be more sustainable is a big (and vague) question, so understandably it feels overwhelming, especially when faced with all the information we have on sustainability. From my last blogpost, I set out the three key pillars of sustainability (economic, environmental and social) and described how those three pillars each contain a number of limbs. The best way I can think to break the concept down to an individual level is to view sustainability as something personal to the consumer. Set your priorities, identify what matters most to you and seek out ways to further those priorities. New research continues to emerge on this topic and keeping an open mind will help you decide what you want to focus on. Be prepared to shift your point of view.
Personally, I am interested in the beginning and the end of the supply chain. What are the raw materials that make up my clothes? What happens to my clothes when I no longer need them?
Fabrics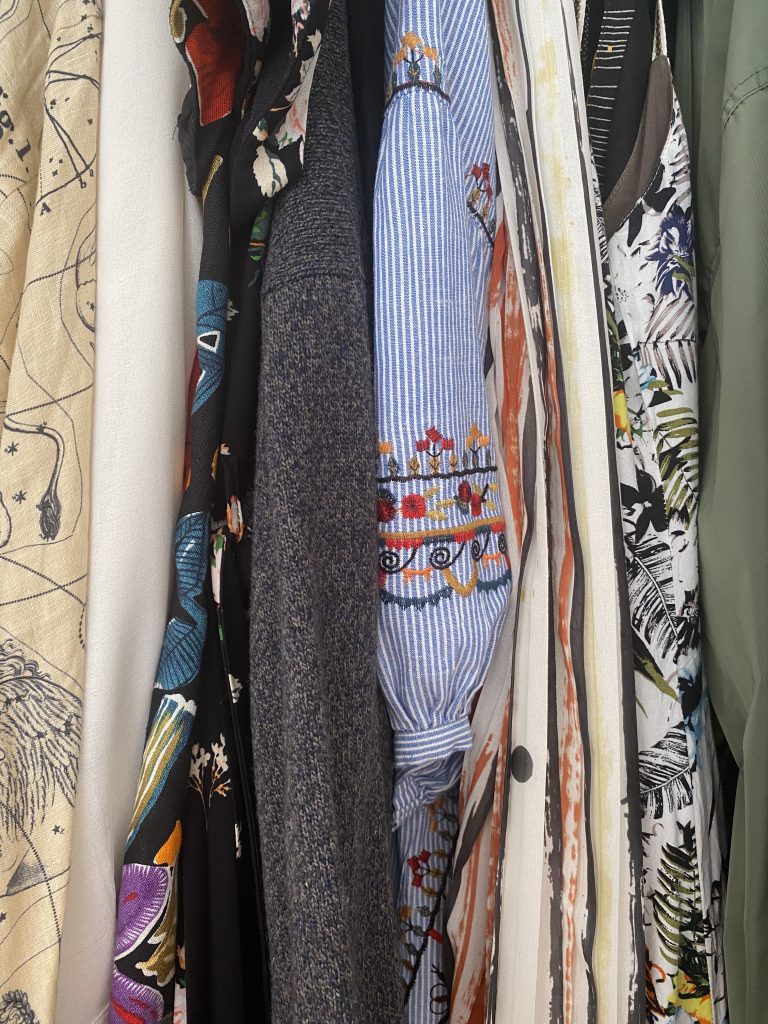 The fashion supply chain begins with raw materials and it is no mystery that when spun into fabrics and then clothes, these raw materials can have damaging effects on the planet. I've started checking the labels on clothes to avoid fabrics that are generally understood to be harmful to the environment. Here are a few:
Conventional cotton
– Found in t-shirts, denim jeans, bedding, etc.
– Uses an extraordinary amount of water (approx. 1,600 gallons of water are needed to produce enough cotton to make one pair of denim jeans)
– The fertilizers and pesticides that farmers use when growing cotton can leak into the soil and water, harming the environment.
Viscose
– Found in lightweight and breathable clothing such as blouses, dresses and athleisure wear.
– Made from wood pulp which is then spun into fibres using chemicals to make threads.
– 33% of viscose comes from ancient/threatened forests which contributes in large parts to deforestation.
– An enormous amount of water waste is produced in the manufacturing of viscose: the water footprint of viscose is estimated at approximately 3,000 cubic metres per tonne of yarn.
Polyester
– Found in waterproofs, outdoor jackets but also often mixed with other fabrics to create day-to-day stretchy garments such as leggings and bodycon dresses.
– It is a synthetic fabric derived from crude oil. The chemical process to create polyester uses a lot of energy and emits CO2.
– It is not bio-degradable and releases microfibres into water systems when washed. Microfibres are tiny plastic particles that are released when washing clothes made from synthetic materials. Given that they measure less than 5mm in length they can slip easily past sewage-plant filters and enter lakes. When microfibres build up in the water systems they contribute to plastic pollution.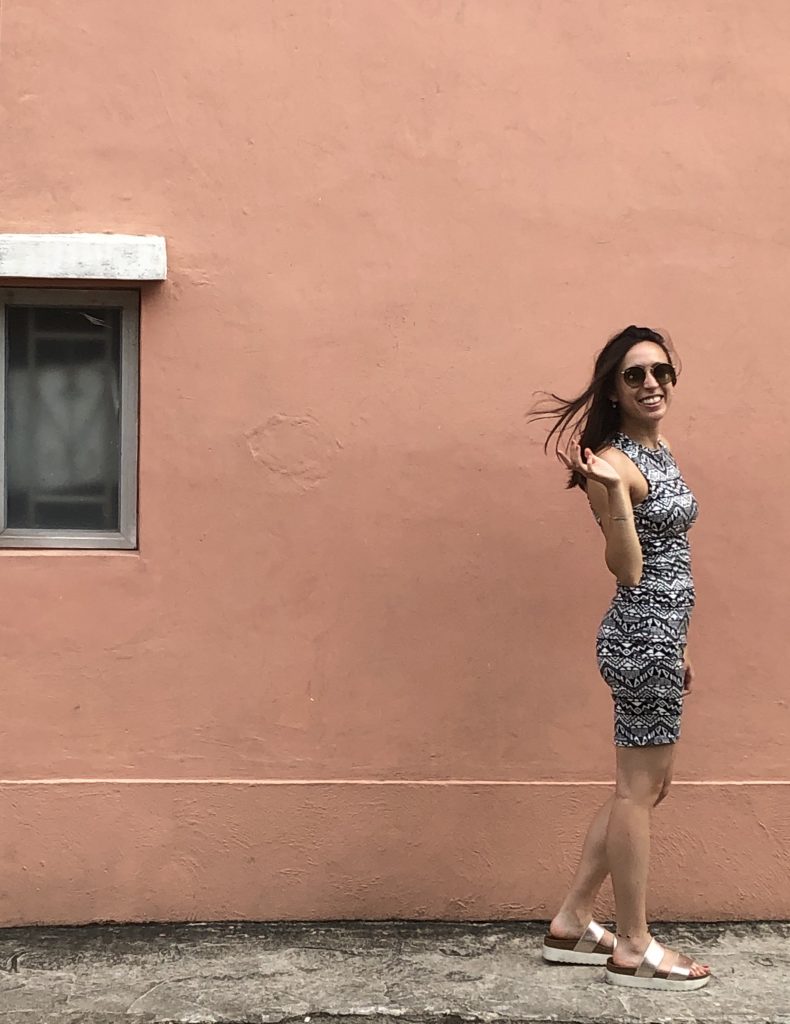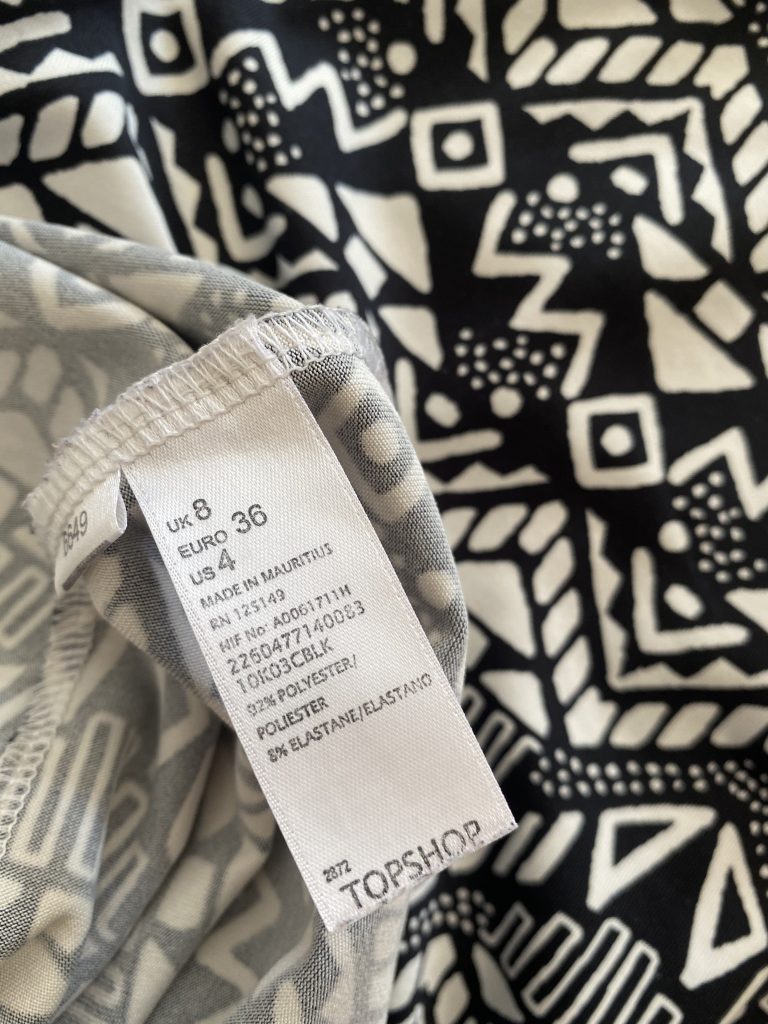 Many brands and clothing lines are using recycled versions of the materials above such as:
Recycled polyester
– A better alternative to polyester since it turns plastic into clothes by chopping it up into flakes, melting it then passing it through a mould to create yarn for knitting or weaving into textiles.
– However, recycled polyester cannot be recycled itself without a steep decline in the quality of the fabrics. It is also not bio-degradable so still releases microfibres into water systems when washed.
I am instead embracing: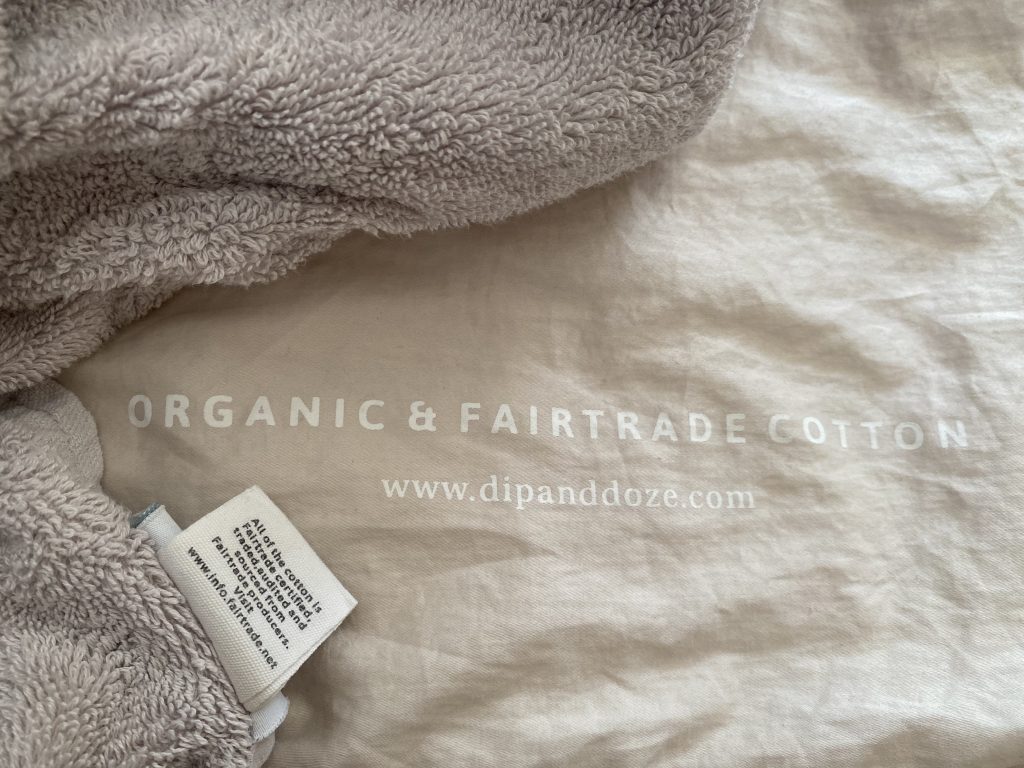 Organic cotton
– The method for growing organic cotton strips out the processes that are harmful to the environment i.e. water consumption and toxic pesticides and fertilizers.
– Looking at organic cotton certifications such as the Global Organic Textile Standard (GOTS) symbol can help to prove that the product is made wholly of organic cotton, rather than only containing a small percentage of it.
Linen
– Linen is made from the fibres that grow inside of the stalks of flax plants.
– Linen production requires very little water as flax plants can survive from rainwater only and spinning the fibres into yarn is a simple and generally chemical-free process. It is also very resilient because of the cellulose fibres.
No matter what the fabric, taking care of clothes properly will also advance sustainability. Checking the care labels and washing the product according to its instructions will help maintain the quality and make it last longer.
Donating
At the other end of the fashion lifecycle an unwanted piece of clothing falls into two categories: unloved or unwearable. In my view, we are getting too complacent about the first category; if an item is still wearable and in good condition but you no longer like the style or fit, then it has become all too easy to get rid of it. Aside from selling it on, the other (easier) option is to donate it to charity, coupled with a self-esteem boost. However, charity shops are often unable to sell all donated items they receive, either because they are not bought, they are not in sellable condition, or because there are simply too many donations. As a result, huge piles of clothes are sold to developing countries and when not sold end up in landfill or burned. In the UK, around 921,000 tonnes of used textiles are disposed of in household waste each year.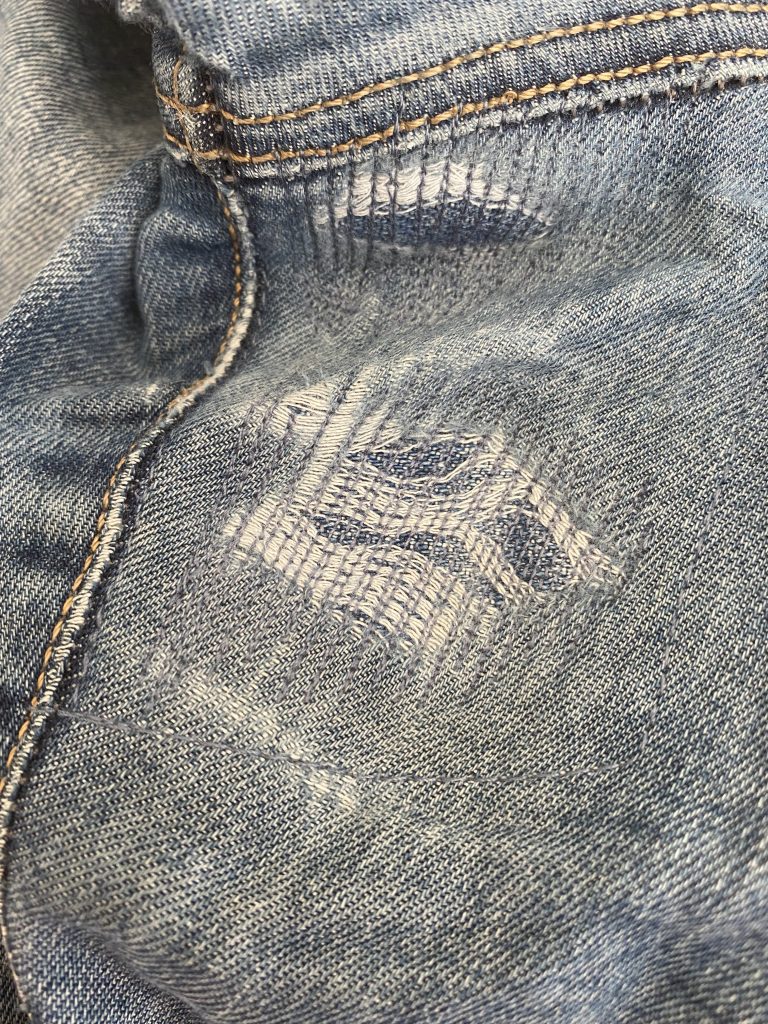 Another point to note is that there are many textile production companies exploring different ways of recycling fabrics. Closed-loop recycling – when textile product waste (post-production as well as post-consumer) is recycled into a new product – is gaining real traction. In this way the textiles are constantly re-used, without creating landfill waste. Renewcell, a Swedish company, is a case in point. Renewcell produces a product called Circulose®, made out of 100% recycled textile waste (primarily cotton) and can be used as a fabric to create new garments. It is harder to break down and recycle garments made from different materials e.g. polyester and cotton, but as technologies evolve and fashion houses start using more sustainable products, circular fashion could become the norm.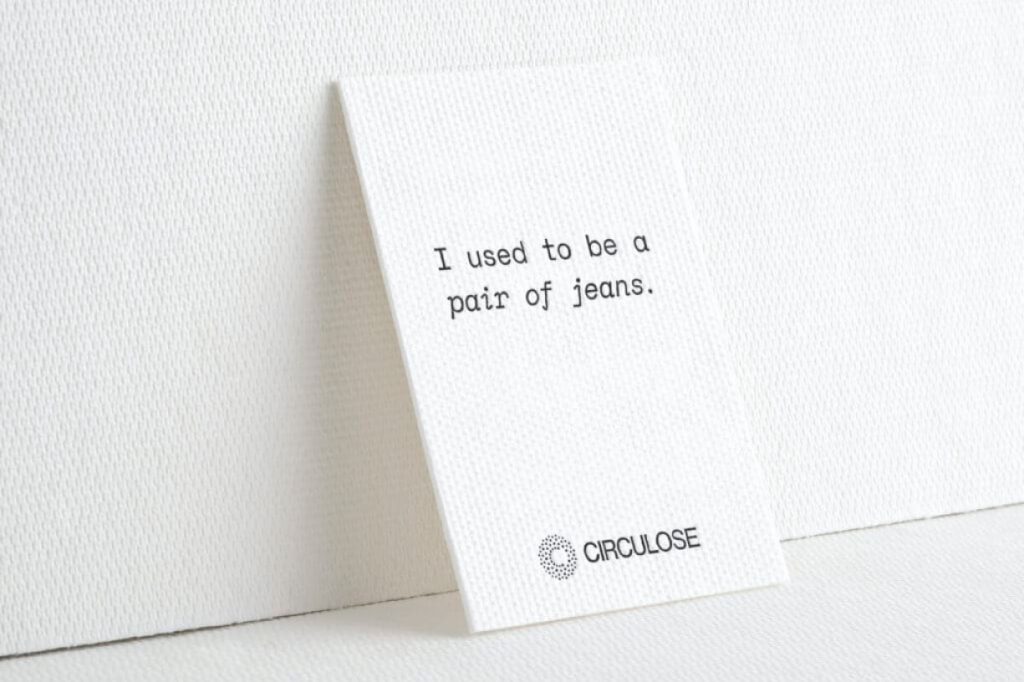 Three key takeaways
1. Set your sustainability priorities
2. Check the labels on your clothes – is it worth buying if the fabric is harmful to the environment?
3. Think before you donate. Can you find a way to get a new life out of your clothes?