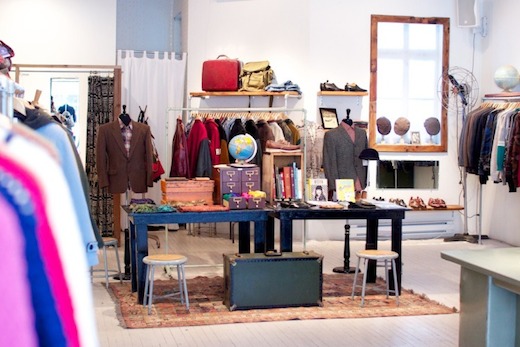 After arriving in Montreal I soon discovered one of the many charms of this city: its vintage shops. Called friperies by the locals, meaning a place where fripes (second-hand clothes) are sold, these shops abound on the Montreal shopping scene. Selling not only clothes but accessories, footwear, furniture and tableware, these shops attract a great deal of people. Naturally I was drawn to investigate what new pieces I could add to my wardrobe, so I descended on Mile-end to check some out. Cool vintage shops are ideal for a Style Rover on a budget, and also a great place to observe the style of the Montréalaises. The Boulevard Saint-Laurent is no Oxford Street; the vintage shops mingle with galleries, cute cafes, restaurants, trendy bars and residential homes, which makes shopping very enjoyable and far from stressful.
I bought (more or less) three items in total from my favourite friperies, and so I can now officially say that I have taken the first steps into the Montreal fashion scene.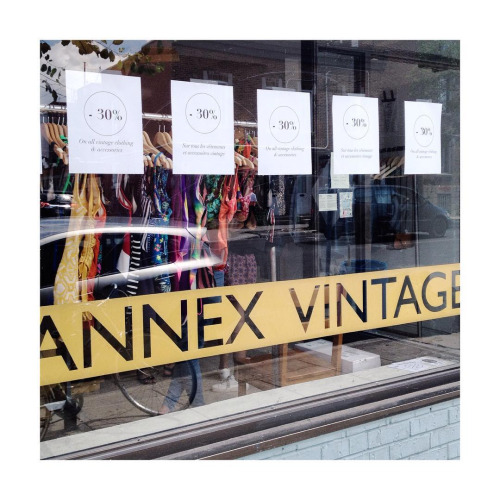 It is located just off the busier Saint-Laurent and is fairly quiet and spacious inside. Timeless pieces such as denim jeans, leather jackets and purses and hang on the racks along with more recent seasonal items. The shop is divided into sections of workwear, denim, patterned blouses, casual t-shirts and baggy sweatshirts, offering a great array of styles to choose from. There is also a considerable choice of accessories such as pendant necklaces, unique rings and cool sunglasses.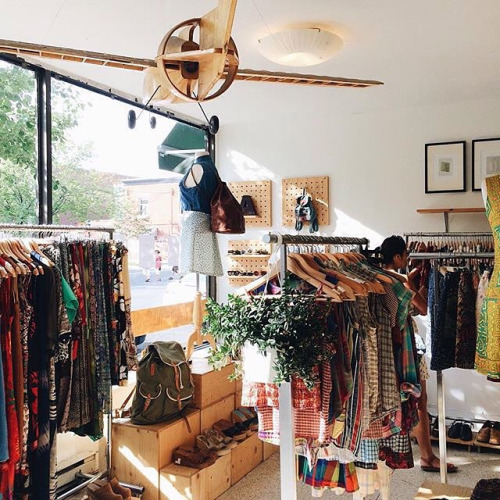 Indeed, the accessories were too pretty to resist, so I chose these vintage-inspired sunglasses (CAD $15, all prices are before tax) – technically not second-hand but they're unique, okay?! And I fell in love with this awesome ring! ($10) Which I feel perfectly captures my affinity for food 😉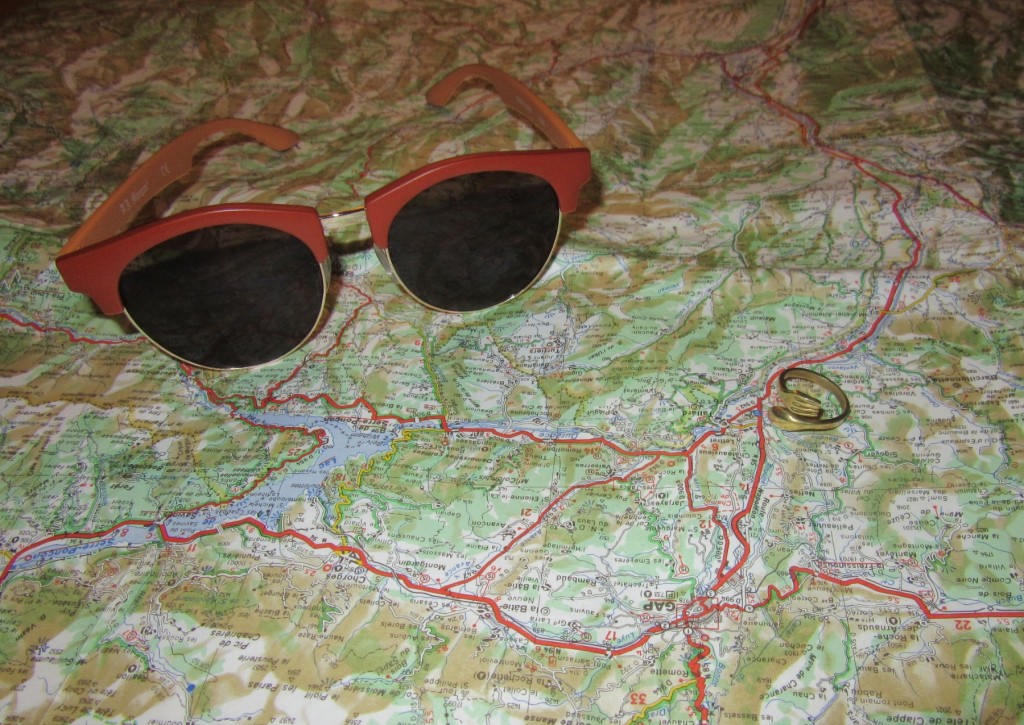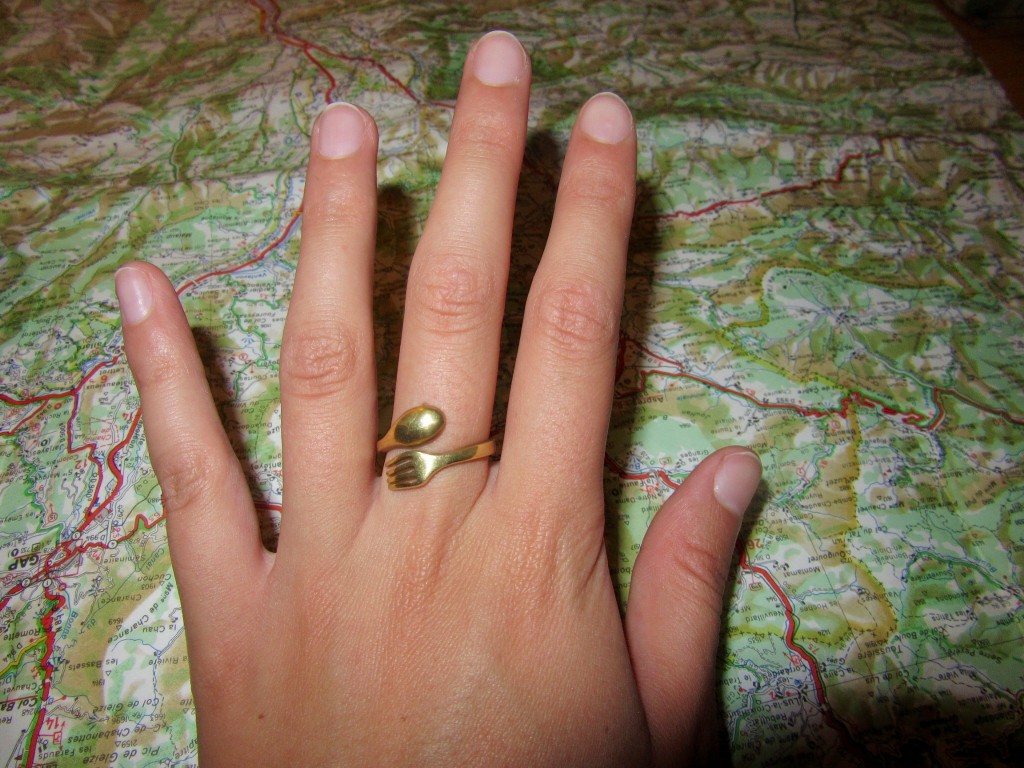 • Arterie Boutique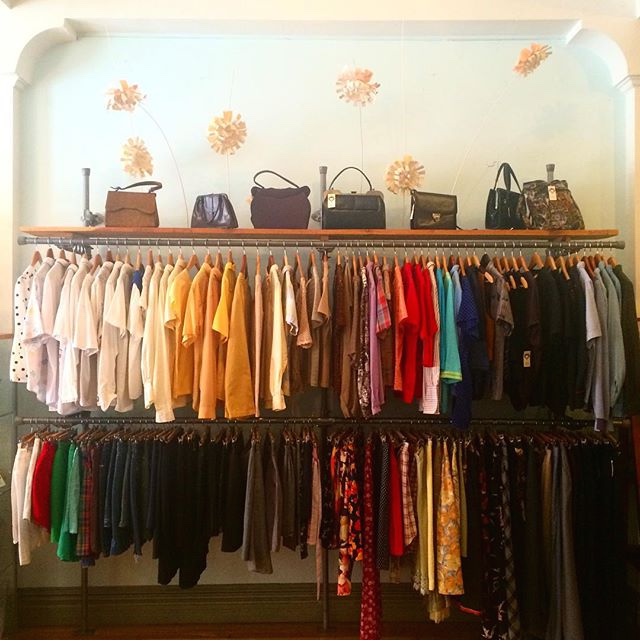 Arterie Boutique is both a boutique and a friperie, which means it sells clothes from québécois designers as well as second-hand items. Thus it is a great place to find more dressed-up pieces you can guarantee nobody else will have. Patterned summer dresses and bright coloured blouses contrast with the more sombre blazers and bags, creating a complete spectrum of colour. They also sell little postcards and lovely bath soaps, proving that this vintage shop does not solely limit itself to clothes and accessories.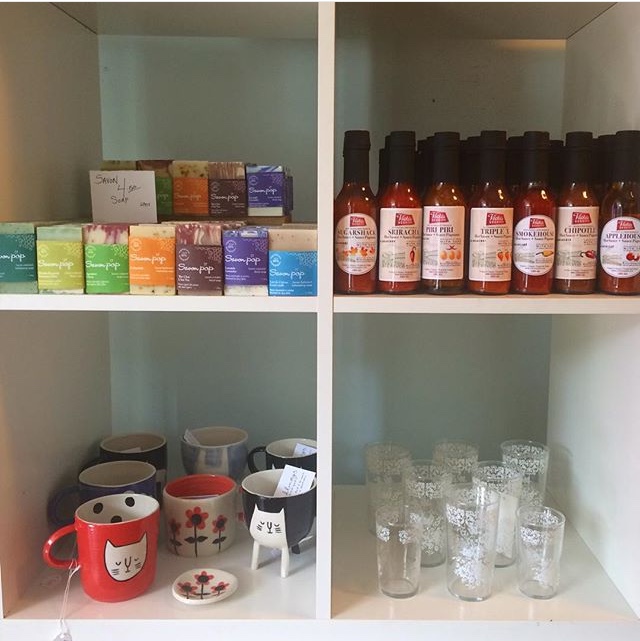 I found a casual blouse, which I think would add a nice twist to a work outfit, but can similarly be dressed down with mom jeans or a flowy skirt ($26).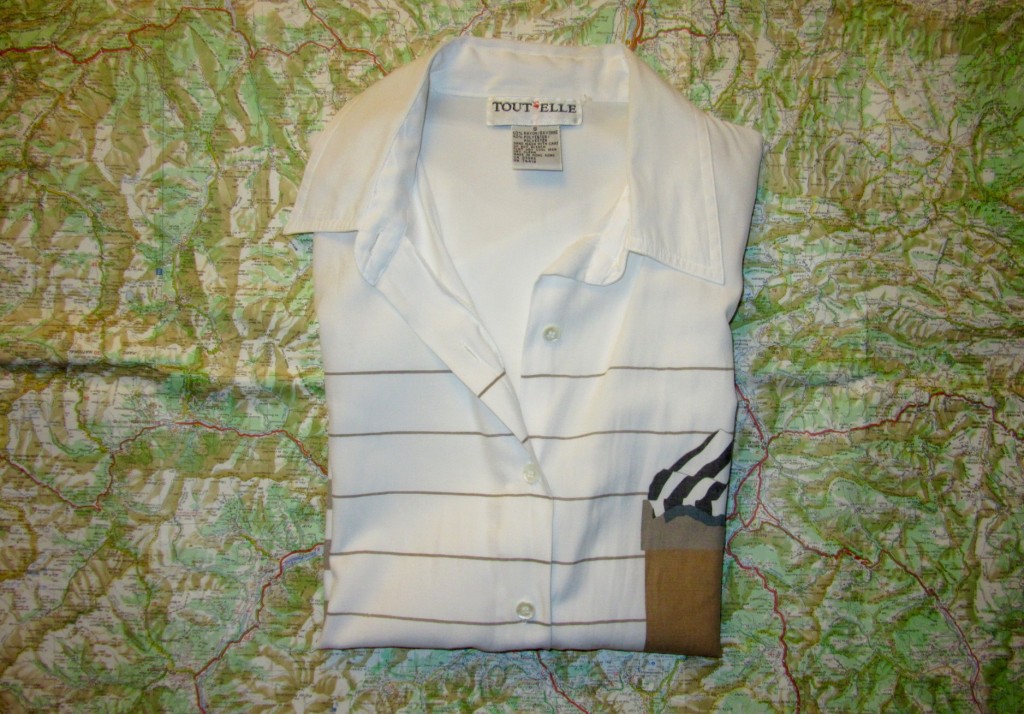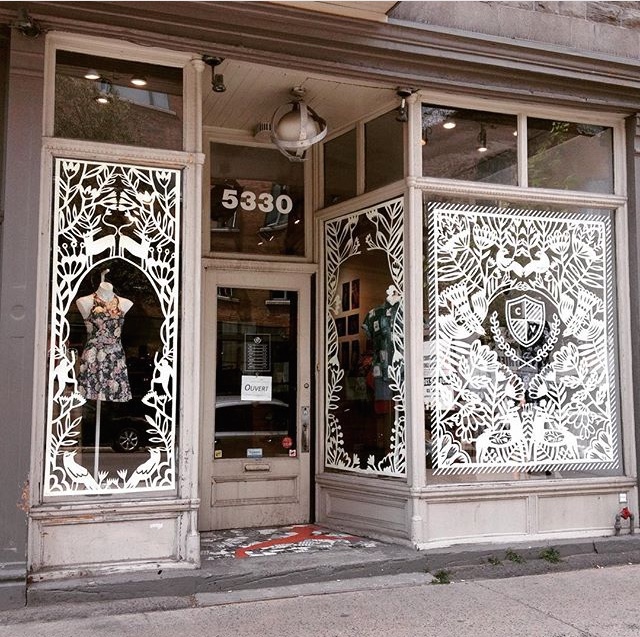 I was immediately drawn by the white patterns on the windows of this shop. As I walked in, loud R n' B music was blasting; the crop tops and striking colours reminded me somewhat of American Apparel, but a cooler version also featuring sleeveless patterned blouses and cute 90s dresses (think Clueless). On another note, their online website is fantastic, especially the bit on 'Mile-end' which outlines a map of all the vintage shops in the area. It definitely helped me!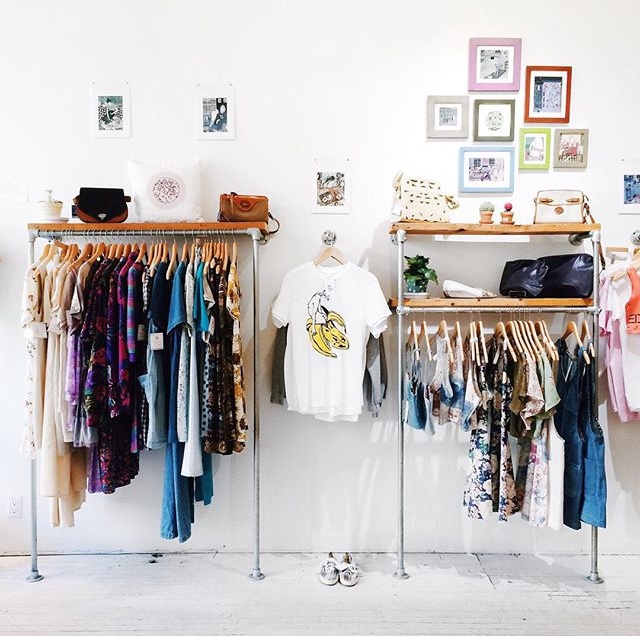 I really like this preppy 90s skirt ($35) and feel it can go with many of my blouses and plain crop tops. The sales lady even said she had her eye on it and was hoping it wouldn't get sold. #sorrynotsorry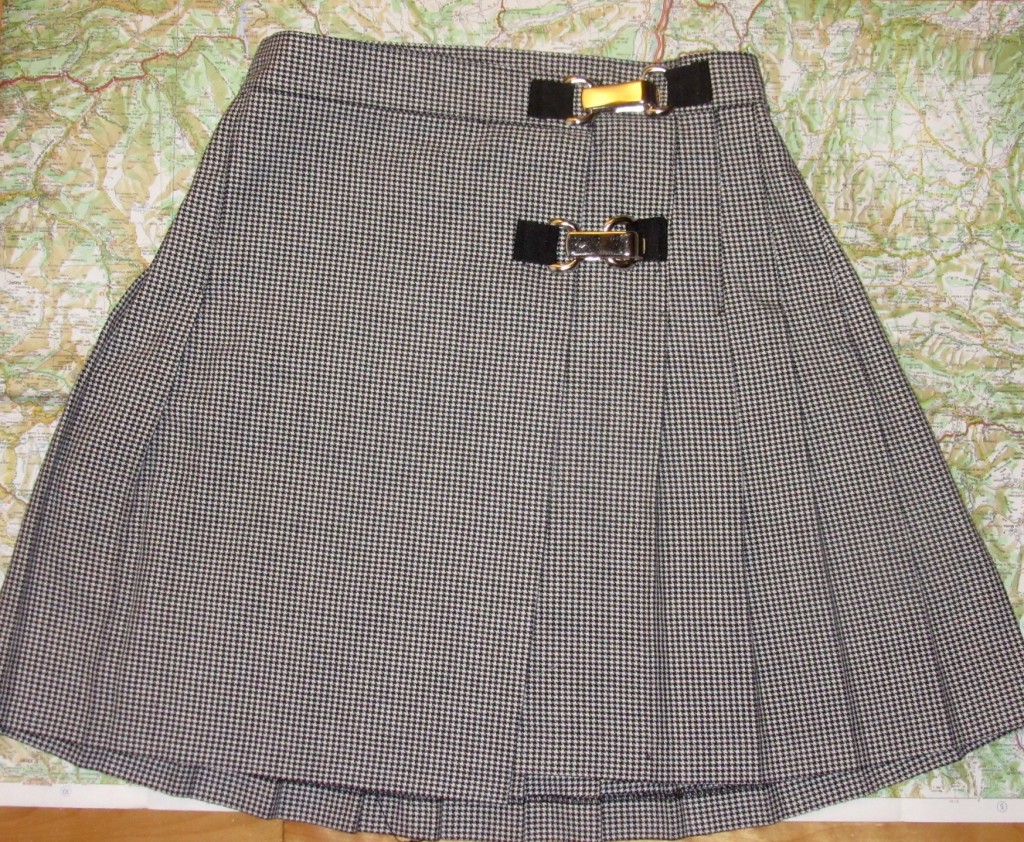 On a side note, if you're a fan of cute cafes and delicious cake, I would definitely recommend Kilo Café which is just a few steps away from Citizen vintage.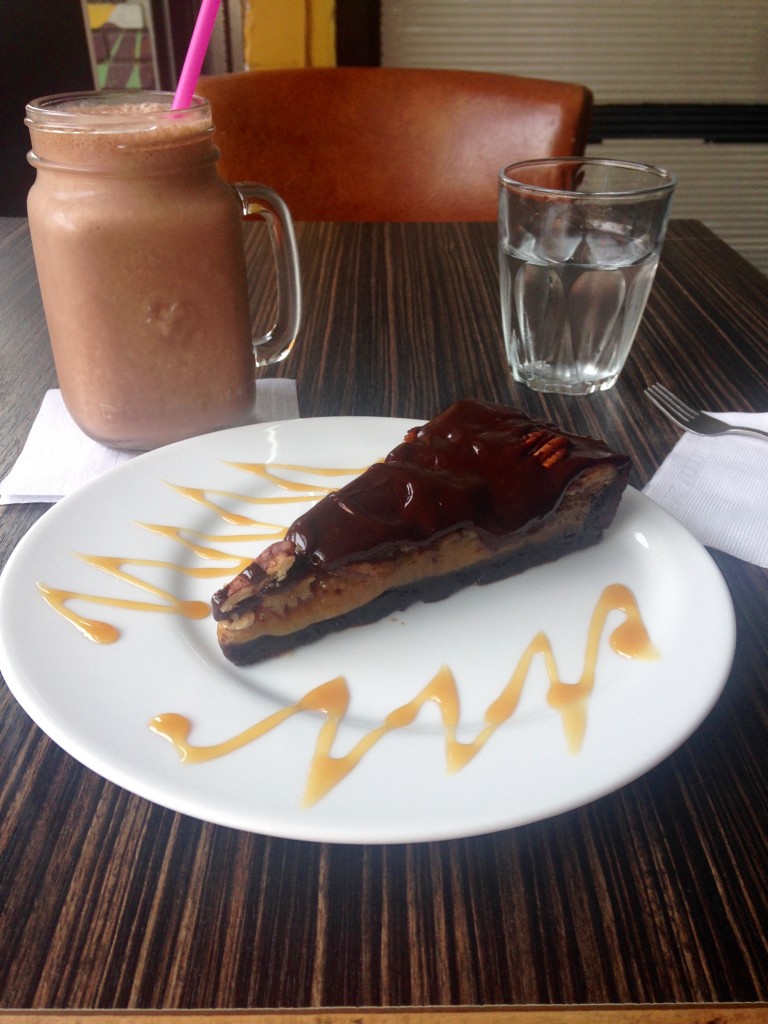 New clothes that don't break the budget, and a brownie, caramel and pecan cake on a sunny day. Montreal, you do it right.
IMAGES:
From the Instagram accounts or websites of the shops.