My name is Laetitia and I'm 25 years old.  As a languages student at university I had the opportunity to spend a year abroad, anywhere I wished.  I studied French and Spanish, so I chose to jet off as far away from London as possible: to Québec for the first half of the year and then to Santiago, Chile.
While on my year abroad I decided to start a blog which combines two things I enjoy very much: fashion and travelling.  I am not a fashion insider; but like many I have an opinion on sartorial trends and people's style.  I have also written a number of articles for the fashion section of my student newspaper and magazine.  I am now making an effort to be more conscious in the items that I buy and the brands I frequent. I will be incorporating inspiration from various sustainable fashion sources into my posts. The goal is to make this blog accessible to those who are curious and interested by everyday fashion.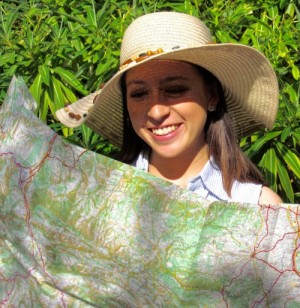 Whenever I travel I always have an eye out for what people are wearing and how their style reflects their culture and lifestyle.  I also tend to pick up accessories and items of clothing from the various places I visit and incorporate them into my style.  This is one of the main reasons I decided to call my blog 'The Style Rover', to capture my interest in street wear, fashion creativity and just being a happy nomad.
I would like to thank my graphics designer, Chihiro Karakawa, for giving an image to The Style Rover.
Thank you for reading this, I hope you enjoy my blog.  Please feel free to contact me with any questions or feedback- I would be very happy to hear from you!